CORE STENGTH VINYASA YOGA & MENTORSHIP
@ sead Salzburg Experimental Academy for Dance
13th of March – 8th of April, 2023
CORE STENGTH VINYASA YOGA – private classes up to 3 persons
SIB– SYSTEMIC & INTEGRATIVE BODYWORK
(Systemische und Integrative Bewegungslehre®)
For more information please contact me: cattravels[at]silverserver.at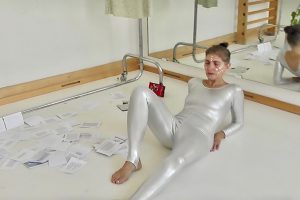 ******************************************************************************************************
Liquid Journeys II @ Volkskundemuseum
17th & 18th of December 2022
Liquid Journeys I @ Volkskundemuseum
6th & 7th of August.2022
Opening, practice and reflection of the artistic research FLUVIAL – on bodies, water and urban landscapes. The workshop was designed to get a sensing-feeling connection to water in the body and the city. We exchanged stories and experiences of water in our bodies and surroundings.I provided some basic knowledge of water, which then was to be felt through encounters of weight and surfaces tension of water (water in vessels) and the explored in the body. In the second part we went to the riverside of the Donaukanal and connected our experiences with the citynature.
MORNING PRACTICE @ Tanzquartier Wien
24th – 29th April 2022
10:00 – 11:30 Studio
WORKSHOP @ Tanzquartier Wien
25th, 27th, 29th of April
13:00 – 15:00
Core Strength Vinyasa Yoga, Project Class & Mentoring @ sead Salzburg
November, December 2021

Core Strength Vinyasa Yoga @ YogaKula
Juni, Juli August 2021
Bösendorferstraße 9/3
Core Strength Vinyasa Yoga, Project Class & Mentoring @ sead Salzburg
Jan., Febr. 2021
Mentroing and Project Class @ sead Salzburg
October, November, December, 2020
Dare & Care | Core Strength Vinyasa Yoga shared practise
@ public moves ImPulsTanz
24.08.20 17:00h – 18:15, spusuSPORTInsel (1210 Wien, bei Georg-Danzer-Steg (U6, Bus 20A, Bus 20B: Neue Donau; U6, Bus 5A, Bus 11A, Bus 11B, S1, S2, S3, S4, S7, S45: Handelskai)
27.08.20 15:30h – 16.45, Kaiserwiese (1020 Wien, Oswald-Thomas-Platz 1, (U1, U2, Tram 5, Tram O, Bus 5B, Bus 80A, Bus 175, S1, S2, S3, S4, S7: Praterstern)
28.08.20 17:00h – 18.15, Seestadt Aspern (1220 Wien; Ecke Sonnenallee, Edith-Piaf-Straße; (U2, Bus 88A: Seestadt; Bus 84A: Maria-Trapp-Platz; Bus 88B: Christine-Touaillon-Straße)
29.08.20 15:30h – 16.45, Zirkuswiese (1230 Wien, bei Karl-Heinz-Straße Ecke Auer-Weltbach-Straße (U6, Bus 60A, Bus 64A, Bus 66A, Bus 67B: Alterlaa; Bus 62A: Kirchfeldgasse)
Morning Yoga Practice & Movement-exploration
Place is the Space
Every Tuesday 17.03. – 30.06.2020
Movement-exploration
We give time to trace the experiences of the Yoga practice into further movements and dances and explore their poetics with free writing (automatic writing) and drawing.
******************************

Dare and Care | Morning Practice
Core Strength Vinyasa Yoga & Movement Exploration
Open Level
Sept. – Dec. 2019
Im_flieger
WAVE THE YOGA | Morning Practice
Open level
Im_flieger
Into the summer 2019
* MIND THE MYSTERIES | Yoga Morning Practice
Open Level
Im_flieger
Spring 2019
* FIERCE & FABULOUS | Morning Training
Open Level
Tanzquartier Wien
Spring 2019
* Fierce & Fabolous | Morning Training
Advanced Level
Tanzquartier Wien
Autumn 2018
* Nourish Your Nature | Morning Practice
Open Level
Im_flieger
Autumn 2018
* Taller Creando Documentos (Workshop Creating documents)
Bertha Bermudez, Sabina Holzer, Anouk Llaurens, Maite Bermúdez
Auditorio de Barañáin (Calle Comunidad de Navarra, 2, 31010 Barañáin)
Pamplona, 2018
*  MIND THE DANCE LAB (Workshop) Sabina Holzer & Annouk LLaurens,
ImPulsTanz Vienna, 2018
e-publication: MIND THE DANCE
* Reflex Residency (Mentoring) as part of Reflex Research Team;
ImPulsTanz Vienna, 2018
* You are here (Lecture) Bodies as realities & realities as bodies
Sabina Holzer, Agnese Krivade, Angela Stoecklin, Rayen Mitrovich Paniagua
ImPulsTanz Vienna, 2018
* MIND THE DANCE: An introductory *short* lab,Tanzquartier Wien, 2018
* Scratching the Script, Tanzquartier Vienna, Spring 2018

* Balance – Mixed Abilities, assisting Inge Kaindlstorfer | LuxFlux, Spring, 2018
ONGOING
M.A.D.
Mixed Abilities Dances – Schoolproject