Performance in the frame of Stoffwechsel – Ökologien der Zusammenarbeit.
They encounter a world which they never left, and which is another one. They develop models. Simulation. Contingency.
The meaning of reality can only be created through movement. Micro-movements of sensation (= elementary processes caused by stimulating effects). The limits of language mean the boundaries of the world.
Logic fills the world. The subject does not belong to the world, but it is a boundary of the world. Ardent. Aghast.
Body, materiality, space. It glances to and fro. It turns hither and thither. Everything physical and material has experiences, and experiences something akin to thought. With these connections, it decides which traces (= invitations) to follow, and.
World becomes.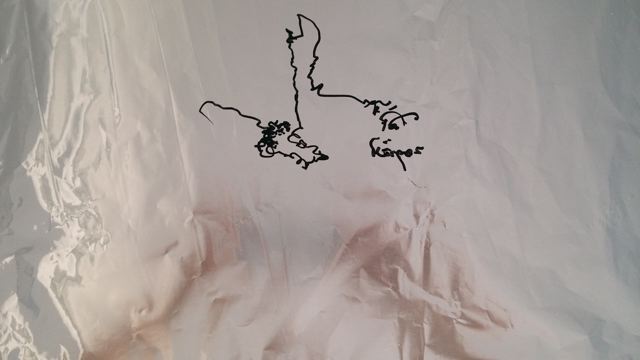 Photo: Sabina Holzer

Concept, Space and Performance: Sabina Holzer & TE -R
Production: Im_flieger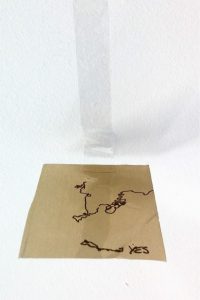 Photo: Sabina Holzer
NEVERENDING FIRE OPENING UP UNFINISH was a research about the materiality of writing. It was developed through the project Stoffwechsel – Ökologien der Zusammenarbeit and therefor in a combination with the research labs happening within, with Martina Ruhsam, Benoit Lachambre and the ongoing exchange with the involved artists.
As I am interested in the physical aspects of language and the materiality of writing, I developed a practice relating rocking and trembling, scribbeling and automatic writing in other to find another sensoiral trigger for movement and develop scores for the visitors. The sound was developed by TE -R (aka Louise Linsenbolz and Thomas Wagensommerer). In this 2 hour event visitors could move, being inspired by scores which where projected during a 2 hours durational movement and sound performance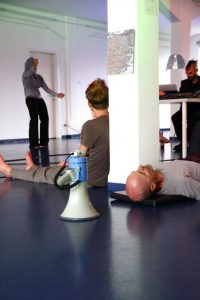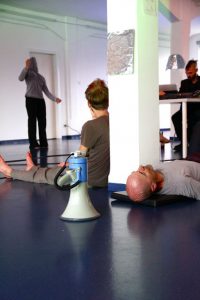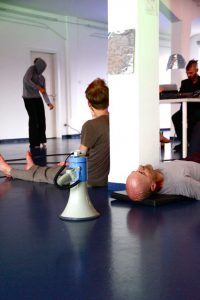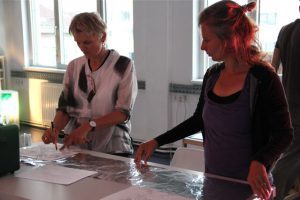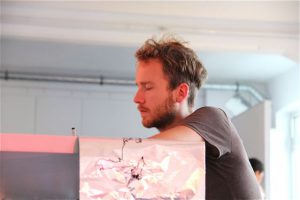 Photos: Alfred Lenz

Trailer