~ sabina notes from ~
things we said and shared
Robert Lamborn Wilson, abcdarium.
William Kentridge & Rosalind C. Morris, that which is not drawn.

Rene Gladman, Planes for Sentences.
The work of Eleonora Fabiao
Amanda Gorman.The hill we climb. Hoffman und Campe, 2022.
Rita Wong, Undercurrents – poems. Gibson BC: Nightwood Edition, 2015.
Swami Nityamuktananda, The Five Great Elements – A Comprehensive Guide to the Expression of Life, Revised 3rd Edition.  Kaivalyadhama Ashram Publications; 2005.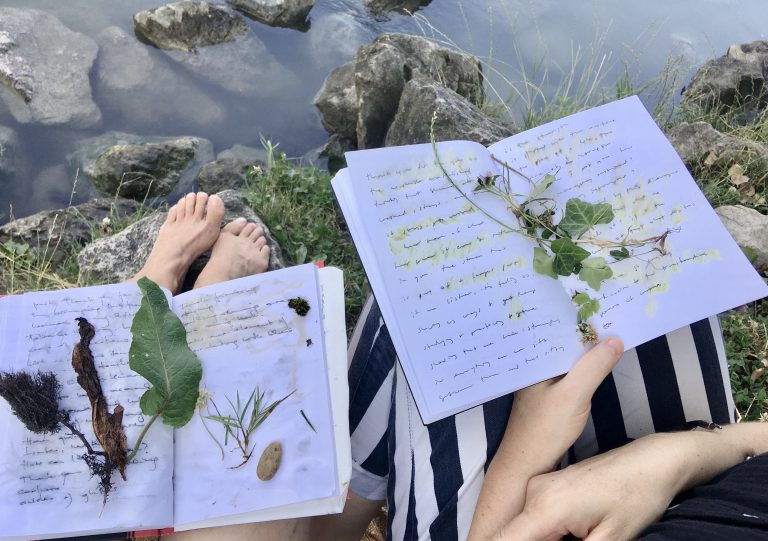 getting in touch with our liquid bodies, liquid vessels. permeating.
membranes in our bodies being accessed
with different tempi and rhythms of rocking
dreaming with books as a third person
a third matter
a third entity
the i is overwritten,
interwoven, 
transwaving
with waters, snakes and plants.
the wave. horizontal and vertical devision and diffusions
we have to become and
ask hybrid figures
we should not be afraid
of the demolishing of the human subject
still we have to practice
care to ease the violent
playfulness rather than reference
care rather than representation
profan professionalism
displaying (the work)
the work around
the tenderness
that that work entails.
I open the page of
joy and enthusiasm
continue to search, as it
is related (in that book)
to water & fire
these paragraphs will be
the boundary between wind
and ground and will be
moved into the thing
that is writing: they
will be a feeling of the
thing in motion but
will hang invisible
to void.
These sentences will
be a duration of grasses
succumbing to water
fog
figure
female
fluidity
fluorescence
end with something
that opens a
relation
ecco tones
echo tones
fluid tentions
caves and structures (oceans)
water (blood, wine)
transported
to tell from our lives and cities our
multispeciesness
~ rewritten by Litó ~
these sentences will be a duration of grasses succumbing to water
female flexibility like fairies of fog figures
skin rather than reference
waves rather than representation
licking the liking
holding 'mesmerizing fierceness' as if it was a mistake
forgive my hydric friends, they are leaking, linking, lingering, listening – a crazy mix of complexity and survival
eco-toness gave space for tones of echoing
tons of echoing
between interrupted flows -lines of sense and lines of words – under and because of the surface tension: diffraction.
my hand is carried
at its place of contact
on the surface if the water-roots and from there: starlight
and what was forgotten:
the parcels of water shapes, land shapes: like membranes, cells, cross-sections, and also deep sea creatures.