* Salon(g)ing with books and friends
Two afternoons with readings, activations and more @ eindorf – Raum für Kunst Reindorfgasse 8, 1150 Vienna

18 July 2023, 16.00-20.00
19 July 2023, 16.00-20.00

By and with Alix Eynaudi, Anne Juren, Elisabeth Schäfer, Jack Hauser, Jeroen Peeters, Julien Bruneau, Nikolaus Gansterer and Sabina Holzer
Free entrance. You can come and go as you like.
Imagine books loosening up their spines and words drifting off the page into a zone where time multiplies, where bodies grow footnotes and paper skin, savour the taste of language or stick an unruly tongue into the mud digging up fossils and ore and unlikely stories. Attention to the corporeal and material conditions of language is what connects this motley group of artists and writers in their recent publications – and the related collaborations and performance practices. Seeing them together on a shelf sparked the desire to bring these books into resonance, activate them in search of unexpected encounters. During two afternoons Alix Eynaudi, Anne Juren, Elisabeth Schäfer, Jack Hauser, Jeroen Peeters, Julien Bruneau, Nikolaus Gansterer and Sabina Holzer will offer a glimpse into their books by way of readings, activations and conversation in a salon setting – all of it punctuated with coffee and cake. You're welcome to spend time with us and imagine the library otherwise. There's a different program on both afternoons.
http://www.eindorf.at/events
* DARE & CARE @ ImPulsTanz Public Moves:
–> 15.7.2023: 17:00–18:15, Goethehof at Kaisermühlen at Kaiserwasser
–> 21.7.2023: 17:00–18:15, Papstwiese, Donaupark next to the Donauturm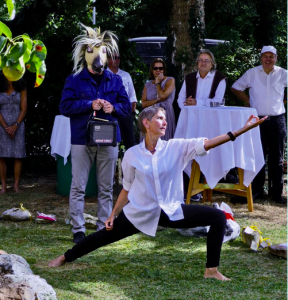 ******************************************************************************************************
Publication:
which dances – which writes. Aluminium Assemblages
Herausgegeben von Sabina Holzer und Elisabeth Schäfer
Sonderzahl Verlag, Wien 2023
Mit Texten von: Thomas Ballhausen, David Ender, Alix Eynaudi, Jack Hauser,
Sabina Holzer, Kartin Hornek, Herbert Justnik, Niamo Lattner, Jeroen Peeters,
Elizabeth A. Povinelli, Elisabeth Schäfer, Tanja Traxler, Brigitte Wilfing.
The fragile state of the earth, the immense consumption of resources in some parts of the planet and the resulting climate change ask for expanded narratives on how we can deal with this existential threat to our common living conditions.
which dances – which writes. Aluminium Assemblages brings together contributions dedicated to the resistant practice of wanting to tell new stories in dark times. The texts explore the glittering, reflective, high-energy, poisonously luxurious compounds of aluminium. Aluminium is the metal most commonly found on earth. It is impossible to imagine our everyday life without it, but at the same time the production of aluminium is tremendously energy-intensive and the red sludge produced during its production is highly toxic. which dances – which writes. Aluminium Assemblages describes an artistic research of a choreographic assemblage. In the contributions to the volume, the production and consumption of aluminium are recycled in a poetic, reflective way in order to give the interwoven co-existence of the human and the non-human new assemblages, assemblages, in language.
******************************************************************************************************

* BODYWORK (ONGOING)
SIB® – systemic and integrative bodywork | Individual Sessions
SIB – (systemische und integrative Bewegungslehre®) a body and perception training, which combines knowledge and practice from Feldenkrais' functional integration with solution-oriented and systemic-therapeutic methods.
Contact me any time for questions & individual treatments: cattravels[at]silverserver.at

Core Strength Vinyasa Yoga® (ONGOING)
Core Strength Vinyasa Yoga® (founded by Sadie Nardini) is a mindful and invigorating yoga with special approaches to the breath and the Asana in order to stimulate or core strength meridian to enhance our well-being, immune system, self-care and much more. In this yoga we combine our breath especially effectively with the flow of movement. The focus is on the deep muscles of the pelvic floor, psoas and lower back.
(Teaching experience: Im_flieger, Tanzquartier Wien, sead – Salzburg Experimental Academy of Dance, ImPulsTanzWien a.o.)
I prepare different focuses depending on the occasions & give one to one sessions.
Please connect me for further information: cattravels[at]silverserver.at
******************************************************************************************************
PERFORMANCE & BOOKLOUNGE
which zones 
Performance
cattravelsnotalone / sabina holzer
15th & 16th of June 2023, 19:30
Tanzquartier Studios / Museumsplatz 1, 1070 Wien
Artistic direction, concept, performance: Aluminum
Concept, space, performance: Sabina Holzer
Text, performance: Elisabeth Schäfer
Concept, space, video: Jack Hauser
Choreographic accompaniment: Alix Eynaudi
Sound: Thomas Wagensommerer
Compositional accompaniment: Brigitte Wilfing
Production: mollusca productions
In this exploration of aluminum and aluminum worlds, aluminum worlding, we approach a hallucination of a dance. An h-alu-dance that could lead us streamlined into an accelerated, metallic future. But: how can the inscriptions of this metal be danced with? How do they connect with our actions? How do they give rise to movements between life and death?
We witness hissing sounds, sparkling lights, weightless mobility; we want to treasure the beauty of the material; the intelligence of the soil; the earth from which it comes. We are in search of other patterns of perception: landscapes are bodies, they condense time, they are flesh around haunted voids. They ask: How can we haul a life in the Anthropocene and beyond? We answer: In what ways do we know when we walk on broken and exploited soils? 
The spine is a snake that seeks other companions. Sisterhood asks for regenerative practices and sustainability; about ways we can relate to each other. Perhaps plants will show us the way as our fingers move like the roots of trees and other beings. We share fragments of ancient myths for the future. Writing is inseparable from our existence. By sharing our myriad of imprints, we try to translate them. We touch to read. And we dance in an attempt to transform ourselves into a crackpot of mystery and intricate care. (Written in the precious company of Alix Eynaudi, Elisabeth Schäfer, Mimi Sheller and Medusa)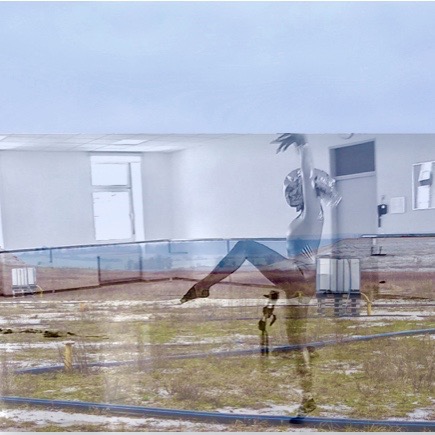 Photo: Jack Hauser / Sabina Holzer
Following the premiere on 15.06. there is a book presentation of which dances – which writes. Aluminium Assemblagen (Sonderzahl Verlag, Vienna 2023). Texts by: Thomas Ballhausen, David Ender, Alix Eynaudi, Jack Hauser, Sabina Holzer, Katrin Hornek, Herbert Justnik, Elizabeth A. Povinelli, Niamo Lattner, Jeroen Peeters, Elisabeth Schäfer, Tanja Traxler, Brigitte Wilfing. 
Bookdesign by: David Ender and Jack Hauser
With a conversation between Julia Grillmayr (cultural scientist, science fiction researcher), Anna Leon (TQW theory) and  the editors Sabina Holzer (choreographer, dancer, author) and Elisabeth Schäfer (philosopher*). In English and German.
Heartfelt gratitude to Esther Figuera, her work and film Fly Me To The Moon, to Philipp Gehmacher, David Ender, Christa Spatt, Matthias Schmidt.
Thank you for the collected Aluminium materials from the team of the Tanzquartier Wien & visitors!
A co-production between Tanzquartier Wien and cattravelsnotalone.
A big thank you to the Volkskundemuseum Wien, eindorf – Ort für zeitgenössische Kunst, Altmetalle Kranner, Gaugl Metalle.
Supported by the Municipal Department of Cultural Affairs, Vienna, and the Austrian Federal Ministry for Arts, Culture, the Civil Service and Sport.
https://tqw.at/event/which-zones-holzer/
***************************************************************************************************