Contingent Agencies Symposium
Contingent Agencies is an artistic research project conceived as an inquiry into atmospheres― the subtle, dynamic, complex, and enveloping presences that emerge in given situations for those who inhabit them. …
Participant researchers will be Karen Barad, Arno Boehler, Emma Cocker, Gerhard Dirmoser, Mika Elo, Tim Ingold, Sabina Holzer, Paula Kramer, Lambros Malafouris, Erin Manning, Dieter Mersch, Hans Jörg Rheinberger, and Andreas Spiegl, together with the principal investigators Nikolaus Gansterer and Alex Arteaga and the head of the Zentrum Fokus Forschung Alexander Damianisch.
https://contingentagencies.net/contingent-agencies-symposium/
! Watch other reflections & notations: https://contingentagencies.net/notations-reflections/
Artefacts of notation created through this week:
1)
IT IS TOO COLD TO MOVE
IF I WOULD MOVE I WOULD FEEL WARMER
MY MOVEMENT WOULD ACCOMPANY THE STILL SUMMERGREEN GRAS
THE GREEN WOULD ACCOMPANY ME
MY HEART
HEART EXPANDED HERE
I PUT A BLANKET ON MY FEET
I PUT OFF MY SHOES BECAUSE THEY ARE WET
SUNLIGHT MAKES THE GREEN GLITTER
STAY (CLOSE)
STAY (CLOSE)
SWINGING TREE SPYNS
BREATHING LUNG LEAVES
FINGER SHADES
MY SHADY WRITING WITH THE WIND
UNWRITING
THE WIND AS THE BREATH
(OF THE WORLDS)
INVITE YOU TO STAND UP AND
WALK AT LEAST 3 STEPS
TO FEEL TO THE GROUND
DOWN IS COLD
UP IS WARM
LIKE PHYSICS TELLS US
BUT DEEP DOWN
DEEP DOWN
A FIRE IS BURNING
MIND YOU
TEMPERATURE
TEMPER
TEMPERA MENT
TEMPERA MENTUM
TEMPTATION
MOVE YOUR ARMS IN LOOSE
CIRCLES AROUND YOURSELF
 AS IF YOU ARE PLAYING WITH
WHILRY WIND WORLDS
AS IF YOU ARE JUGGLING
WITH YOUR ENLARGED 
 PULMONARY ALVEOLI
DIFFERENT TEMPERATURES CIRCLNG
ARE YOU GETTING WARMER, WALL?
ARE YOU STILL A BIT CHILLY, TREE ?
DO YOU STILL FEEL THE HEAT OF THE SUMMER, GROUND?
WATERBAGS AROUND THE TREES
WITH A CIPPER LIKE MY JACKET
ITS BLACKNESS COLLECTS LIGHT
WARMING MY SKIN
LIGHT COLOUR, TEMPERATURE
VIBRATING MATTERS
MATTERS OF DIFFERENT VIBRATIONS
VIBRATION
TEMTATION
TISSUES
Score: 
Read the text. Put your attention to the activities described and suggested.
Copy the text or some parts of it using a paper and a pencil. Do it with your hand writing. As you copy the text, you can also add what ever comes in your mind. There are no mistakes. Not in spelling. Not in grammar. Not in the way you write.
Connect to the resonances you are offered.
Take your written paper and bring it to a place outside 
where there is a transition zone between warm and cold 
(sun – shadow, rain – no rain, wind and no wind).
Read what you copied and act out some gestures suggested in the text, exploring the shifts and encounters of temperature you experience while moving and expanding your physical body.
Reflection of this notation by Mika Eli:
https://www.researchcatalogue.net/profile/show-exposition?exposition=1740899
2)
Answering to an on-site notation of Mika Eli I created 7 getures to temper the space.
I am interested how bodies (of all sorts) are writing / informing / changing the space.
I wonder (again and again) what a sculpture could be in relation to the moving / dancing body. How can a figure in space reveal conditions, which are otherwise not to apperent;
as condition of scale, time, distance and approximation and places within the space.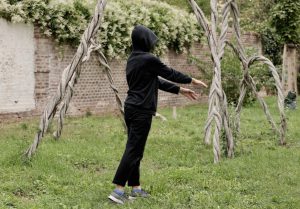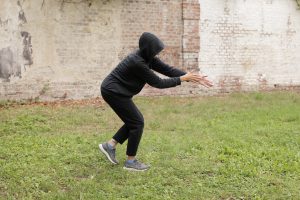 Photo: Viktor
Here they are captured by Jack Hauser, during the public sharing.
liebe erforscherinnen,
DANKE FÜR DAS WETTER. hier das gestrige pataphysische geschehen als chronologische filmsequenz gesehen:
inthemood#9
alles liebe
euer erschöpfter jack
ps: ihr könnt das filmchen anwenden.
pps. und bitte auch an alle beteiligte weiter verbreiten:-)
3) Night co-notation with Mika Eli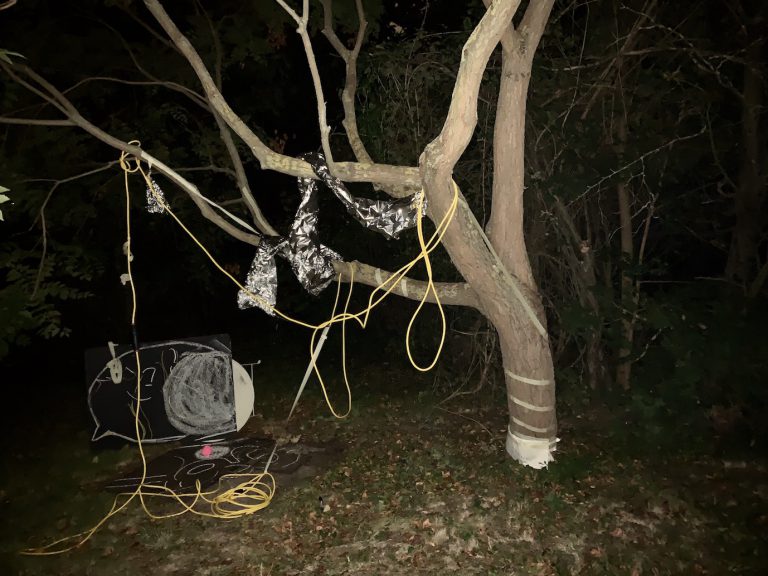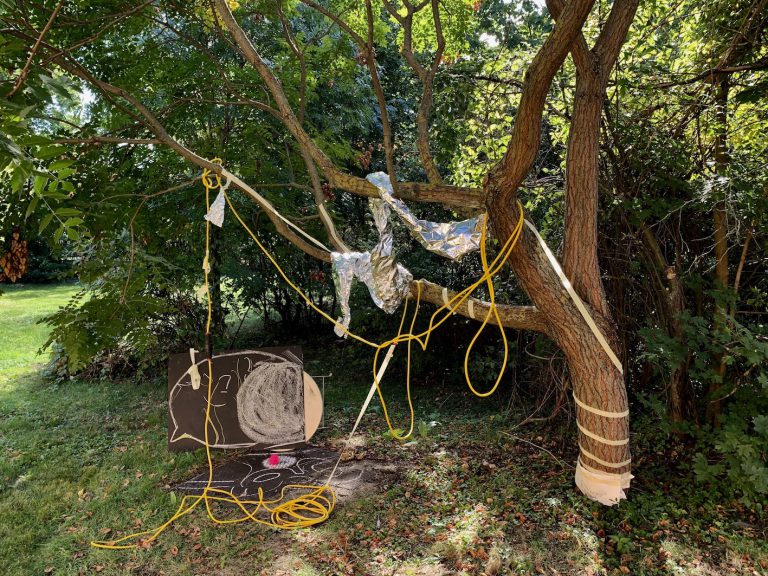 I have a practice of writing with eyes closed, which I often activate after moving. This writing is in realtion to the touch between the writing instrument and the surface (mostly paper and pencil). When the writings instrument is touching the surface, I follow the micro-movements of this encounter. I do this until a word comes up that has a strong resonance for me and then I write it down. Most of the time, the word-forming touch finishes the writing. This time the word peace gestures came up. It was a resonance of an intense talk a few of us had before the notation, in relation of the partial mobilization of the russian regime in the war of attack against the Ukraine. During the notation process it seemed forgotten, but in fact it was still breeding and stayed with me: what could be peace gestures to practice?
Here are the traces of the notation by Mika Eli:
https://www.researchcatalogue.net/view/1740899/1740904
4)
Notation in responds to the co-notation peace gestures